12 February 2018
Thailand's Largest Lime Producer Chememan to be Listed on SET
Preparing an IPO Up to 240m IPO Shares After SEC Filing Approval, and Aiming to Expand Production Capacity to Become among the World's Top 10 Lime Producers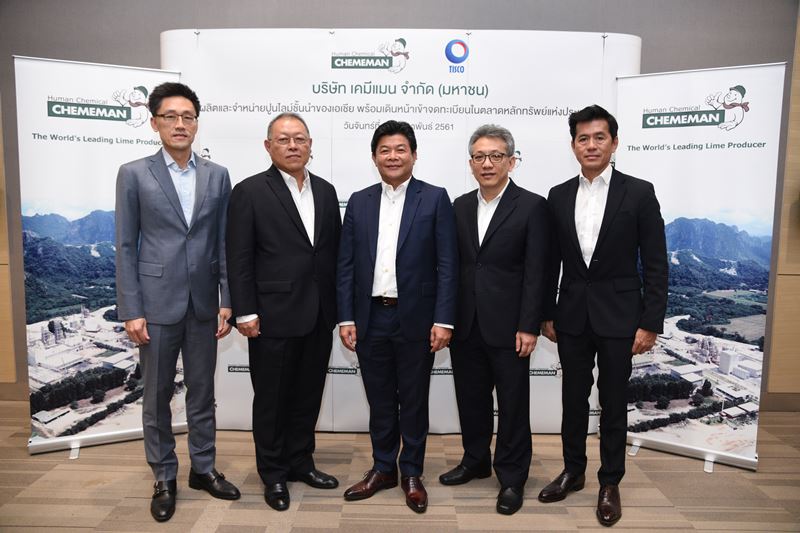 Chememan PLC (SET: CMAN), Thailand's largest lime and lime derivative chemicals producer and distributor, is in SET listing process and is preparing to issue up to 240m IPO shares. In response to the growing demand, the company will increase its Kangkoi plant's annual quicklime production capacity by more than 100,000 tonnes raising its total annual lime capacity to more than 900,000 tonnes, and to become one of the world's top 10 lime producers and distributors. The management highlighted its products' applications as material and/ or component for production process in a wide range of industrial products. The company positions itself as the sole lime company in Thailand possessing both lime production plants and also a 25-year mining concession, enhancing stability of its raw materials.

Mr. Adisak Lowjun, Chief Executive Officer of Chememan PLC, or CMAN, revealed that the company is now ready to be listed on the Stock Exchange of Thailand (SET). He noted that the company is a producer and distributor of lime and its derivatives that transforms natural resources into basic chemicals and synthetic products that have been extensively used as key raw materials or components of production process for a wide range of industries, including many consumer products such as gold, copper, zinc, aluminum, nickel, lithium, graphite, iron and steel, pulp and paper, sugar, bio-plastics, animal feeds, flue gas and wastewater treatment, glass, bottles, mirror, among many others. Currently, there are three main product lines which are distributed under the trademark 'CHEMEMAN' both locally and internationally, namely 1) Quicklime (Calcium Oxide), 2) Hydrated Lime (Calcium Hydroxide) and 3) Limestone and Limestone Grinding (Calcium Carbonate).

Chememan PLC is Asia's leader in lime and specialty chemicals industry as well as Thailand's largest lime producer and distributor with the existing lime installed production capacity of approximately 800,000 tonnes per year (as of 30 September 2017), from three lime production plants in Saraburi and Rayong provinces, with two major distribution centers in Australia.

Moreover, Chememan PLC is the only lime company in Thailand that possesses both lime production plants and a 25-year mining concession (valid until 23 June 2040) granted by the Ministry of Industry for a quarry located in Kangkoi district, Saraburi province. The quarry has more than 115 million tonnes of mineable reserves containing ultra-high calcium limestone (survey data as of October 2016), which give competitive advantages in terms of quality of limestone and cost control. Furthermore, the company also complies with the measures to prevent and improve environmental impacts as stated in the environmental impacts assessment (or EIA) report, and performs rigorous inspection regularly.

According to a survey conducted on Thailand's lime industry by Frost & Sullivan, Chememan PLC dominates the market with highest market shares for quicklime and hydrated lime in both domestic and export segments. In 2016, its shares of quicklime and hydrated lime sales contribute to 29% and 21% respectively for the domestic segment and 81% and 84% respectively for the export segment. Its total revenue for the first nine months (from January to September) of 2016 stood at THB 1.633bn, increased 12% year-on-year, due to execution of new long-term sales agreements with major customers. Currently, Chememan PLC has customer base covering more than 20 countries across Asia, Australia and Africa.

Mr. Adisak added that Chememan PLC intends to increase its investments to serve the constantly rising lime demand in several regions, including expanding its Kangkoi plant's annual quicklime production capacity by more than 100,000 tonnes to achieve total lime capacity of more than 900,000 tonnes (expected to begin commercial operation in Q1/2018), constructing a warehouse and a silo at Kangkoi plant to improve inventory management efficiency (expected to be completed in Q2/2018), and joint venturing in lime production and distribution business in Visakhapatnam and Tuticorin, which are major ports and industrial hubs in India (expected to begin commercial operation by 2019).

'Chememan's vision is to be among the top 10 leading producer in the global lime and specialty chemicals industry. We are committed to achieve the right balance among all stakeholders' interests and expand customer base in various industries both locally and internationally in order to continuously generate high returns for shareholders. We ensure that the company develops and grows sustainably and in adherence to good corporate governance principles', said Mr. Adisak.

Mr. Paiboon Nalinthrangkurn, Chief Executive Officer of TISCO Securities Ltd., as representative for the Financial Advisor, commented that Chememan PLC has great growth potential and is ready to be listed on SET, and that the Office of the Securities and Exchange Commission (SEC) has approved its filing and application to make an initial public offering (IPO) of up to 240m capital-increase ordinary shares, or up to 25% of its after-IPO distributed and paid-up capital. The use of proceeds is to expand lime production in Thailand and overseas, repay bank loans and as working capital. The IPO and listing dates are expected to be in Q1/2018.